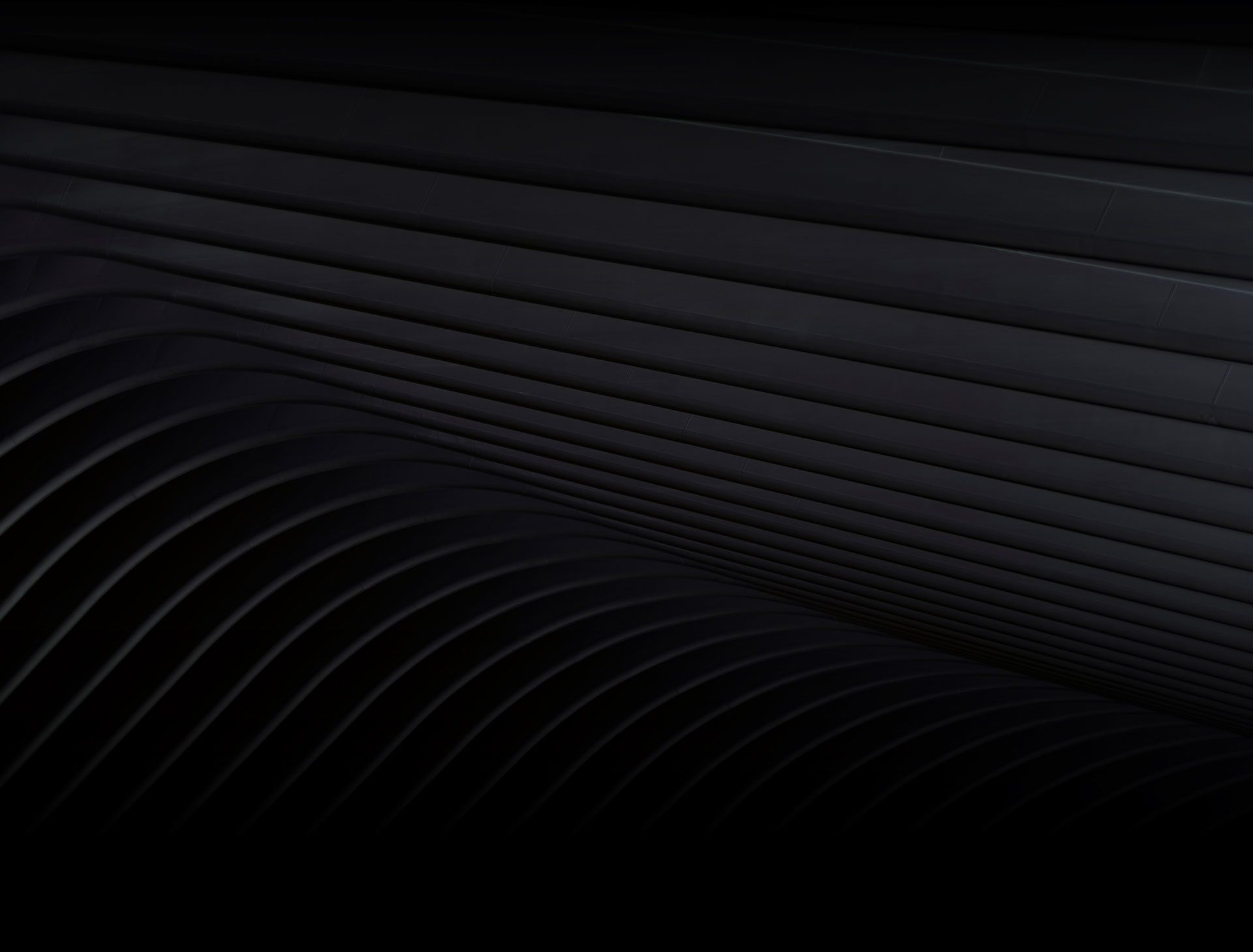 Parallel Z-type shafts mixers
with tilting bowl
Capacity range
300-1500
Liters
Batch Range
200-1000
Liters
The MIX SZ and MIX SZV series is the strongest series of two-shaft , tilting open and vacuum mixers equipped with round or flat Z-shafts.
These machines are designed for mixing and kneading the most demanding and heavy masses, and the high standard of workmanship and hygiene zone allows to keep the machine clean, preventing the formation of bacterial outbreaks.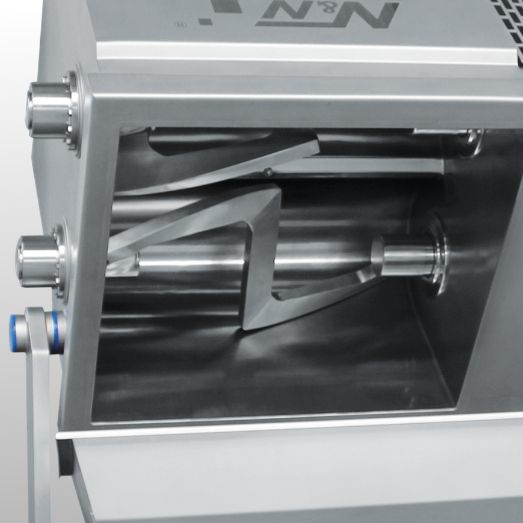 Unloading
Mixers of the MIX SZ and MIX SZV series are equipped as standard with hydraulic opening system of mixing chamber cover. The unloading system is carried out by the hydraulic bowl tilting directly to two euro bins or another container, which enables easy and quick emptying of the mixing chamber.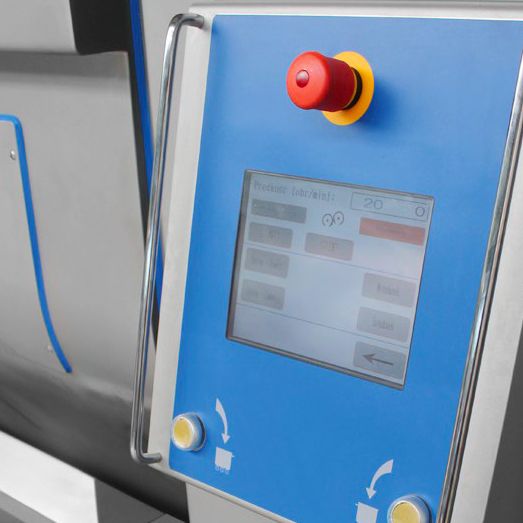 Control
The MIX SZ and MIX SZV series mixers are equipped as standard with a colour and reliable HMI touch screen, which is user-friendly and intuitive to use. The soft ware allows access control, manual and automatic operation and up to 100 mixing programs, where each can consist of 5 programmable steps.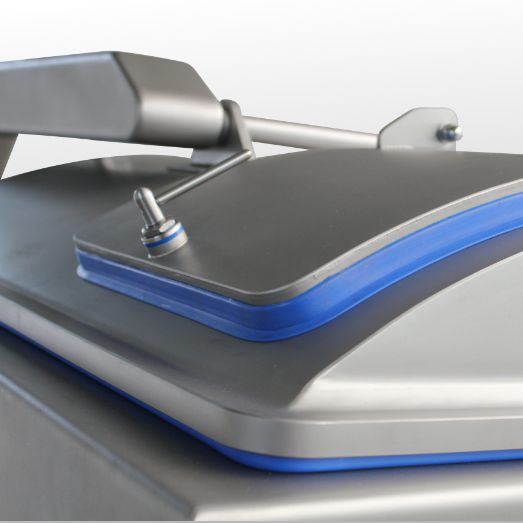 Vacuum system
The MIX SZV series vacuum mixers have a reinforced bowl construction and a solid and tight top cover, which allows to achieve a vacuum of up to 99%. Vacuum improves protein extraction, liquids absorption, distribution and absorption of spices and other additives, enables density control, and eliminates air bubbles before emulsification, stuffing or forming.
Z-type parallel shafts
In MIX SZ and MIX SZV series mixers the mixing process is carried out by two parallel Z-type shaft s, placed at the same heights. The characteristic feature of this series of machines is the possibility to set the speed and direction of rotation independently for each shaft.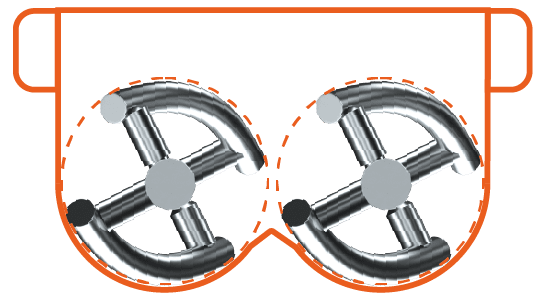 MIX SZ - Tilting mixers
MIX SZV - Tilting vacuum mixers
Tilting mixers

MIX SZ

Technical data

| | |
| --- | --- |
| Capacity [l] | 300 |
| Maximum load [l] | 200 |
| Installed power [kW] | 2x75 |
| Rotation speed of the shafts [obr/min] | 5-48 |
| Standard controls | PLC with HMI |
| Net weight of the machine [kg] | 1300 |
| BUSCH vacuum pump [m3/h] | - |
| Current protection | 40 |
| Loading options | PW 2/250 |
| Unload | 200L |
| Opening/Closing covers | Hydraulic |

| | |
| --- | --- |
| Capacity [l] | 500 |
| Maximum load [l] | 320 |
| Installed power [kW] | 2x15 |
| Rotation speed of the shafts [obr/min] | 4-40 |
| Standard controls | PLC with HMI |
| Net weight of the machine [kg] | 1780 |
| BUSCH vacuum pump [m3/h] | - |
| Current protection | 100 |
| Loading options | PW 2/250 |
| Unload | 2x200L |
| Opening/Closing covers | Hydraulic |

| | |
| --- | --- |
| Capacity [l] | 1000 |
| Maximum load [l] | 650 |
| Installed power [kW] | 2x22 |
| Rotation speed of the shafts [obr/min] | 4-30 |
| Standard controls | PLC with HMI |
| Net weight of the machine [kg] | 3400 |
| BUSCH vacuum pump [m3/h] | - |
| Current protection | 120 |
| Loading options | PW 2/250 |
| Unload | 2x200L |
| Opening/Closing covers | Hydraulic |

| | |
| --- | --- |
| Capacity [l] | 1500 |
| Maximum load [l] | 1000 |
| Installed power [kW] | 2x30 |
| Rotation speed of the shafts [obr/min] | 3-28 |
| Standard controls | PLC with HMI |
| Net weight of the machine [kg] | 4600 |
| BUSCH vacuum pump [m3/h] | - |
| Current protection | 160 |
| Loading options | PW 2/250 |
| Unload | 2x200L |
| Opening/Closing covers | Hydraulic |

Tilting vacuum mixers

MIX SZV

Technical data

| | |
| --- | --- |
| Capacity [l] | 300 |
| Maximum load [l] | 200 |
| Installed power [kW] | 2x75 |
| Rotation speed of the shafts [obr/min] | 5-48 |
| Standard controls | PLC with HMI |
| Net weight of the machine [kg] | 1400 |
| BUSCH vacuum pump [m3/h] | 21 |
| Current protection | 40 |
| Loading options | PW 2/250 |
| Unload | 200L |
| Opening/Closing covers | Hydraulic |

| | |
| --- | --- |
| Capacity [l] | 500 |
| Maximum load [l] | 320 |
| Installed power [kW] | 2x15 |
| Rotation speed of the shafts [obr/min] | 4-40 |
| Standard controls | PLC with HMI |
| Net weight of the machine [kg] | 1900 |
| BUSCH vacuum pump [m3/h] | 21 |
| Current protection | 100 |
| Loading options | PW 2/250 |
| Unload | 2x200L |
| Opening/Closing covers | Hydraulic |

| | |
| --- | --- |
| Capacity [l] | 1000 |
| Maximum load [l] | 650 |
| Installed power [kW] | 2x22 |
| Rotation speed of the shafts [obr/min] | 4-30 |
| Standard controls | PLC with HMI |
| Net weight of the machine [kg] | 3580 |
| BUSCH vacuum pump [m3/h] | 40 |
| Current protection | 120 |
| Loading options | PW 2/250 |
| Unload | 2x200L |
| Opening/Closing covers | Hydraulic |

| | |
| --- | --- |
| Capacity [l] | 1500 |
| Maximum load [l] | 1000 |
| Installed power [kW] | 2x30 |
| Rotation speed of the shafts [obr/min] | 3-28 |
| Standard controls | PLC with HMI |
| Net weight of the machine [kg] | 4850 |
| BUSCH vacuum pump [m3/h] | 63 |
| Current protection | 160 |
| Loading options | PW 2/250 |
| Unload | 2x200L |
| Opening/Closing covers | Hydraulic |